Company Info
about us
President Greeting
We aim for the one and only company with unique "FORM's" technology and challenging spirits.
We started our company in 1950 as "a metal mold manufacturing company" but four years later, we started focusing our attention on the field of "automotive parts" before anybody else. Since then we have steadily expanded our business, while taking advantage of our high technology for parts manufacturing accumulated in metal mold manufacturing. During the early stage of our company, "bonnet type" was the mainstream in the truck industry, but we actively challenged manufacturing "COE (Cab Over the Engine) type" upon the request from a major customer, which was non-mainstream trend at that time. This indefatigable spirits for manufacturing products created a big movement in our company to greatly influence the future of our company. It turns out that COE type has become the mainstream of truck industry. Since then we have achieved a rapid growth and have become the peerless manufacturer of large automotive products pushed by the rapid economic growth era.
Our former president, a founder of our company, had a strong belief that "we do not need management principle, but the company should change itself according to the change of era." Therefore we had kept this idea for a long time, but reviewing our management style was inevitable after the collapse of the Bubble Economy. In 2003 we have set three management principles such as "breaking away from the business depending on the only one company," "departure from subsidiary character," and "securing 5% ordinary profit" based on the basic principles of "Independence," "Self-help" and "Self-responsibility." We actively make investment in research and development so that we can have new business development. Furthermore, we proactively improve quality to maintain our stable business, instead of being in a passive manner. As a part of our proactive activities, we have positively acquired ISO, which is a business passport, and have made everyday efforts to manage and maintain quality and safe working rment.
We are now standing at the stage called the 21st century. We, "FORM Co., Ltd.," seek to be and vigorously push forward for "the one and only company" that can offer high-quality variety of products in a small lot to meet the needs of our customers in total production line from development to assembly with our past superior experience and knowhow.
Company Outline
Trade Name

FORM Co., Ltd.

Head Office

405, Saedo-cho, Tsuzuki-ku, Yokohama, Kanagawa, Japan

Capital

32 million yen

Number of Employees

Head Office (Yokohama) 37 / Ibaraki Factory 314 (as of Aug 28, 2023)

Directors

Chairman and Representative Director
 Masatoshi Toitani

President and Representative Director
 Yusuke Toitani

Vice President
 Kazuhisa Toitani

Senior Managing Director
 Yoichi Kobayashi

Auditor
 Setsuko Toitani

Main Bank

The Bank of Yokohama, Tsunashima Branch

Main Clients

Mitsubishi FUSO Truck & Bus Corporation
MITSUBISHI HEAVY INDUSTRIES Ltd.
NISSAN MOTOR Corporation
Press Kogyo Corporation
Nippon Fruehauf Company, Ltd.
F-TECH INC.
Nabtesco Automotive Corporation

Affiliated Company

SANWA Corporation (Head office: Yokohama-shi)
PT. SANWA PRESSWORK INDONESIA (Head office: Indonesia)
KYOEI SEISAKUSHO Corp: Head Office Zama-shi
Factories
Head office (Yokohama)

Employees
33

Site area
1,591m²

Building area
1,183m²

Ibaraki factory

Employees
259

Site area
122,000m²

Building area
26,535m²
History
June. 1950

Founded Toitani Mfg. in Minamiazabu, Minato-ku and started mold-designing and manufacturing.

Jan. 1954

Founded Toitani Mfg. Co., Ltd., embarking on the full-scale business of automobile parts production.

May. 1961

Established a new headquarters factory in Himonya, Meguro-ku.

Sep. 1964

Yokohama factory newly constructed in 793, Takata-cho, Kohoku-ku, Yokohama.

Nov. 1966

Yokohama factory began operations.

Oct. 1973

Preparation of the Ibaraki plant site started in Ogawa-cho, Ibaraki.

Nov. 1974

Ibaraki plant started operations. (site area 122,000m², building area, 3,100m²)

Sep. 1975

Headquarters moved to 793, Takata-cho, Kohoku-ku, Yokohama.

May. 1990

Ibaraki factory construction was completed of the phase of 2nd-4th.

July. 1990

Company name changed to FORM Co., Ltd.

July. 1991

Office building at Ibaraki factory completed (270m²)

May. 1999

Consolidation of Ibaraki plant completed (Welding Line 21, Assembly Line 12)

Apl. 2004

Ibaraki factory obtained ISO9001/ISO14001 certification.

Apl. 2005

Yokohama factory obtained ISO14001 certification.

Mar. 2008

Sanwa Co, Ltd. became an affiliated company after its entire stocks were acquired.

Nov. 2009

Ibaraki factory construction was completed of the phase of 5th-6th.

Oct. 2010

Kyoei Seisakusyo Corp. became an affiliated company after its entire stocks were

Aug. 2013

Yokohama factory obtained ISO9001 certification.

Aug. 2014

Ibaraki factory collection completion of the production section.

Feb. 2016

Self-consuming solar power generation facility (150kw) completed.

Feb. 2022

Relocated Yokohama Head Office to Saedo-cho,Tsuzuki-ku
ISO
Head office (Yokohama)

ISO9001/14001 Certification Factory

Ibaraki Factory

ISO9001/14001 Certification Factory
Access
Head office (Yokohama)
405, Saedo-cho, Tsuzuki-ku, Yokohama, Kanagawa, Japan 224-0054
TEL 045–509–1764 (main switchboard number), FAX 045–509–1774
JR Yokohama line Kamoi st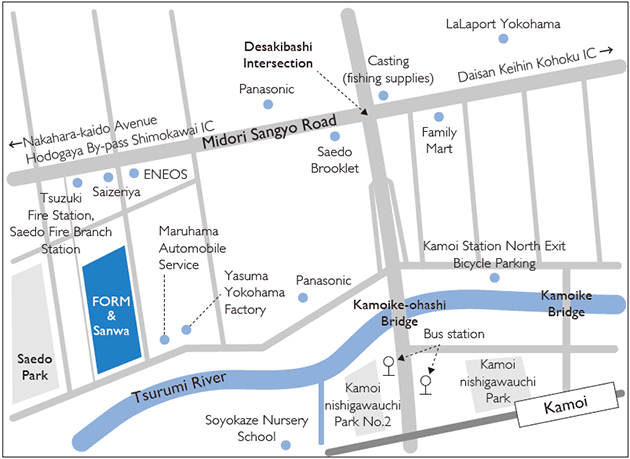 Ibaraki Factory
1556-2, Yozawa, Omintama-shi, Ibaraki, Japan 311-3416
TEL 0299-54-0131(main switchboard number), FAX 0299-54-0143
Thirty minutes on car form Ishioka st of JR Joban line.

Forty minutes on car form Chiyodaishoka of Joban Express.